Helicopter Tours in Baltimore, MD
You will emulate pure excitement as you depart the water and take to the skies in our fantastic Destination Baltimore Tour. Experience the aerial beauty of downtown Baltimore as your journey through the skies which will deliver spectacular views of the Inner Harbor, Oriole Park at Camden Yards, and many other iconic monuments!
On departure and arrival over the Northwest Harbor, you will have the exclusive and absolute best view of Fort McHenry from a bird's eye view, original location of the Star Spangled Banner. All of this and more of the historic Baltimore skyline makes this tour a must for any visitor!
Book the Destination Baltimore Tour and contact us today!
Our Destination Baltimore Tour Pricing
In order to ensure that you have the best helicopter tour experience possible, we take you around the city of Baltimore in our comfortable Bell 407 aircraft. This helicopter is equipped with custom designed floor to ceiling convex windows, air conditioning, heating, and noise cancelling headsets.
Flight Time – Approximately 12-15 minutes
Pricing - $129 per person (+$10 per person heliport fee)
Approximately 12-15 Minutes of Flight Time
$129 Per Person
(+$10 per person heliport fee)
Baltimore's Helicopter Tour Destinations
The city of Baltimore, MD has so many great things to offer but it's too hard to visit them all in one day. Luckily, you are able to view much more through the skies! On the Destination Baltimore Tour, you can expect to see the following (but not limited to):
Fort McHenry
Port of Baltimore/Seagrit Marine Terminal
Natty Boh Sign atop Natty Boh Tower
Patterson Park
Johns Hopkins Hospital
Historic Fells Point
Downtown Baltimore
Oriole Stadium at Camden Yards
Ravens Stadium at M&T Bank Stadium
Mount Vernon (Baltimore)
Inner Harbor
Baltimore Aquarium
Under Armour World Headquarters
Iconic Domino Sugar Sign
USS Constellation
USS Torsk
Locus Point
Countless sailboats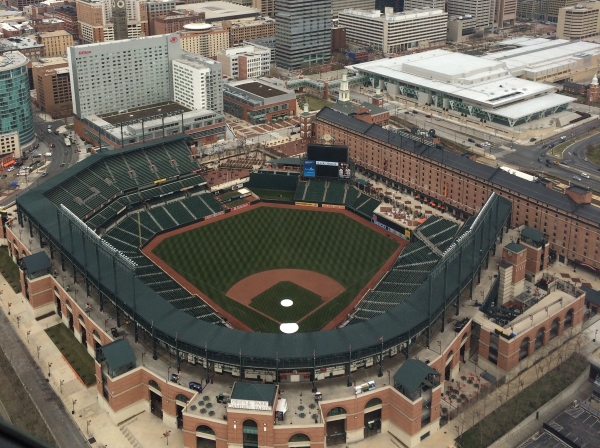 Why Charm City Helicopters?
Baltimore is one of the most beautiful cities on the ground and sea, wouldn't it be great to experience through the skies as well? Our company was founded and is owned by pilots, so we understand what is needed to give our customers the helicopter tour of a lifetime. Making sure you are safe, prepared, comfortable, and absolutely enjoying yourself, is always our goal.
Of course, your safety is our number one priority. Before each tour, we make sure each passenger is prepared and all questions are answered. If you'd like some questions answered before your helicopter tour, be sure to check out our FAQs or give us a call!
Book Your Baltimore Helicopter Tour
If you're ready to see Baltimore, MD in a whole new way, we are ready to show it to you! Our Destination Baltimore Tour is one of our most popular helicopter tours. You can book this tour year round, making it perfect for any occasion! If you are looking for something different or want to book additional tours, be sure check some of our other helicopter tours.
Schedule your next Baltimore helicopter tour by filling out an online contact form or calling us at (443) 973-6296.