Preeminent Baltimore Helicopter Tour Company
Takeoff in our helicopter on a sightseeing journey like never before. See the Chesapeake Bay and experience two amazing Maryland cities on one incredibly scenic tour!
Marvel at the beauty of the Maryland's Chesapeake Bay as you make your way through the sky towards a bird's eye view of the splendid architecture of downtown Annapolis. Then make your way back up the bay to get a downtown helicopter sightseeing tour of Baltimore. You will see everything listed in the Destination Baltimore Tour, plus more!
Approximately 30-35 Minutes of Flight Time
$299 Per Person
(+$10 per person heliport fee)
Baltimore and Annapolis are such great Maryland cities in their own ways. Experience them both on the ultimate viewing trip and see these famous attractions:
Fort McHenry
Port of Baltimore/Seagrit Marine Terminal
Natty Boh Sign atop Natty Boh Tower
Patterson Park
Johns Hopkins Hospital
Historic Fells Point
Unobstructed Downtown Baltimore
Oriole Stadium at Camden Yards
Ravens Stadium at M&T Bank Stadium
Mount Vernon (Baltimore)
Inner Harbor
Baltimore Aquarium
Under Armour World Headquarters
Iconic Domino Sugar Sign
USS Constellation
USS Torsk
Locus Point
Countless sailboats
---
PLUS:
Key Bridge
Fort Carroll Sanctuary
Johns Hopkins Bayview Campus
Multiple Chesapeake Bay Beaches – Venice on the bay, Bayside Beach
Gibson Island
Magothy River
Severn River
U.S. Naval Academy
Navy Stadium
Annapolis Marina
Maryland State House
Aerial View of Downtown Annapolis
Lighthouses (on occasion)
Chesapeake Bay Bridge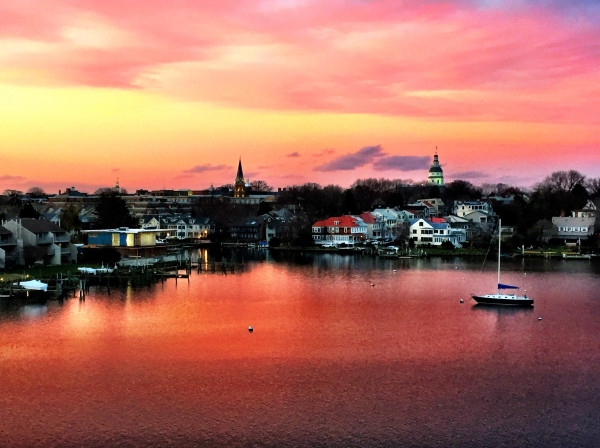 Why Charm City Helicopters
Baltimore & Annapolis are a couple of very popular and beautiful cities that Maryland has to offer. Charm City Helicopters wants to make sure that we are able to showcase that to you through the aerial experience of our Baltimore – Annapolis Skyway Tour.
Our experienced pilots will make sure you are safe, prepared, comfortable, and satisfied from the very first minute. Prior to your helicopter tour over Baltimore and Annapolis, feel free to check out our FAQs for some more information.
Schedule Baltimore – Annapolis Helicopter Tour
Charm City Helicopters is ready to show you Baltimore and Annapolis like you've never seen it before! Our Charm City Tour is our most popular and one of the best around for all types of occasions. We also offer additional helicopter tours if you are looking for something different!
Schedule your next Baltimore -Annapolis helicopter tour by filling out a contact form or calling us at (410) 707-1013. We can't wait to show you why we are the premier helicopter tour company in Maryland!