Trusted Baltimore Helicopter Tour Company
If Baltimore is the life, Sagamore is its heart. Charm City Helicopters is everything Baltimore and this package simply emulates the truest Baltimore experience available. Charm City Helicopters has partnered with Sagamore Spirit Distillery and the co-located upscale establishment, Rye Street Tavern, to bring one of the most unique, different, and out of this world experiences available. Helicopters, whisky, and amazing food – what more could you ask for in an afternoon? Oh yeah, the best part… everything is onsite at the distillery, including helicopter pickup and drop off and one of the best meals you will have this year!
Our Helicopter Tour Package Pricing
Charm City Helicopters flies a safe and comfortable 206 aircraft with custom designed floor to ceiling convex windows, air conditioning, heating, and noise canceling headsets. We want to make sure that you are not only paying for the experience but the quality of your Baltimore helicopter tour as well.
Included in Package
Approximate Experience Time: 2.5 - 4 hours
Choose 1 of 2 tours, shared or private
Distillery Tour, shared or private
Sagamore Spirit Gift Bag
Lunch or Dinner at Rye Street Tavern (dinner includes alcoholic beverage pairing)
Tax and Tip at Rye Street Tavern
Sagamore Spirit Whisky Tasting Experience
Sagamore Pendry Guests: Free luxury SUV transportation to and from the Sagamore Pendry Hotel
The Fun Details
Sagamore Spirit Distillery Tour – Take an incredibly 1 hour journey though the brand new Sagamore Spirit Distillery in Port Covington. One of the best distillery tours in the world, you will become one with Baltimore's incredible whisky history followed by an incredible whisky tasting experience narrated by top notch whisky experts! Memories are the best, so you'll leave your tour with some awesome Sagamore Spirit Swag in your very own gift bag, one per person!


Your Helicopter Tour - After your tour, you will be picked up in your very own helicopter at the distillery itself! Charm City Helicopters will lift you into the air and into the skies above Baltimore on one of two tours we offer with this package, obviously left to your choosing. Select either our incredibly popular 12- 15 minute Destination Baltimore Tour for a Raven's eye view of Baltimore's most popular landmarks, or our special edition 30 – 35 minute Sagamore Experience Tour that takes you to Baltimore County to see Sagamore Farm, the spring house where the water that turns into Sagamore Rye is located, as well as mimic its journey down Route 83 followed to the city where we will then fly you around some of Baltimore's greatest sights before we drop you back off at the Sagamore Spirit Distillery for you dining experience at Rye Street Tavern… now that's an entry!


Lunch or Dinner at Rye Street Tavern – Choose either Lunch or Dinner at Rye Street Tavern, co-located with the Sagamore Spirit Distillery. Lunch entails a 3 course menu in which you choose your courses upon arrival, 1 non-alcoholic beverage and all taxes and tip included! The incredible dinner steps it up a notch to a 4 course family style menu for sharing as you indulge on the chef's choices for the evening, subject to your dietary needs of course. A beverage pairing accompanies each course to truly make it an incredible evening. All taxes and fee included!
Options for your Sagamore Rye & Fly Package
Transportation – Want to keep elevating the night? We thought you might want to consider these options we have put together just for you!

Take a limo or private SUV ride (call for pricing) from dinner and back to your specified location with our partner, ZBest Limousine Service.
Drive yourself to Sagamore Spirit Distillery. Complete with free parking, and the helicopter picks you up and drops you off at the Distillery!
Staying at the Sagamore Pendry? Free luxury SUV service to and from the distillery!

Private Distillery Tour – Love ultimate Privacy? In addition to a Private Helicopter, you can make your distillery tour private! Call for pricing.
Flight Time Varies Depending on Tour Selected
Prices below are inclusive of entire package, except optional extras and $10pp heliport fee.
| | Per Person | Private Helicopter for 2 (Includes 2 per experience) |
| --- | --- | --- |
| Destination Baltimore Tour Lunch Option | $270 each | $720 total |
| Destination Baltimore Tour Dinner Option | $385 each | $950 total |
| Sagamore Experience Tour Lunch Option | $440 each | $1,250 total |
| Sagamore Experience Tour Dinner Option | $555 each | $1,480 total |
Baltimore's Helicopter Tour Destinations
What You will see on the 30-35 minute Special Edition Sagamore Experience Tour…
Takeoff and Landing from Sagamore Spirit Distillery
Sagamore Farm
Sagamore SpringHouse
Route 83 Journey from the Sagamore Farm to Baltimore
Sagamore Pendry
Port Covington
Fort McHenry
Port of Baltimore/Seagrit Marine Terminal
Patterson Park
Johns Hopkins Hospital
Historic Fells Point
Downtown Baltimore
Oriole Stadium at Camden Yards
Ravens Stadium at M&T Bank Stadium
TV Hill
Druid Hill Lake
Mount Vernon (Baltimore)
Inner Harbor
Baltimore Aquarium
Under Armour World Headquarters
Iconic Domino Sugar Sign
USS Constellation
USS Torsk
Locus Point
Countless sailboats
Baltimore Zoo
Pimlico Race Course home of Preakness
Hampden
Johns Hopkins University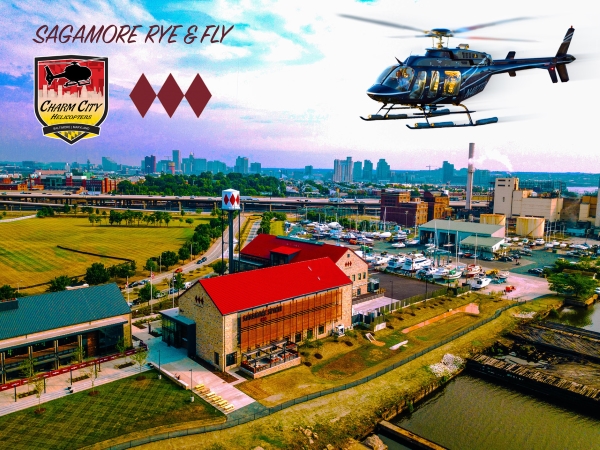 Why Charm City Helicopters?
Show the person you love how much they mean to you and provide them with an aerial experience that will never be forgotten. Our company was founded and is owned by pilots, so we understand what is needed to give our customers the helicopter tour and experience of a lifetime! Our number one priority is ensuring your safety, comfortability, and enjoyment!
Schedule Your Baltimore Helicopter Tour
Enjoy the Charm City Helicopter experience from a bird's eye view and book your Sagamore Rye and Fly Package tour today! If you'd like to know more about pricing and/or procedures, be sure to visit our FAQs for more information.
Fill out an online contact form or give us a call at
(410) 707-1013.